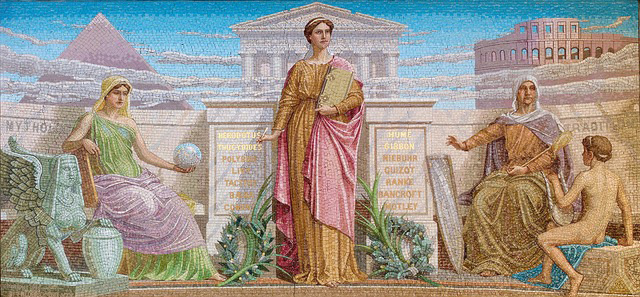 For over fifteen years I have been giving talks and lectures on historical subjects as diverse as medical treatment in the 1700s and espionage in the First World War. All my talks are related to research undertaken for books published by Bodleian Library Publications, Quercus, OneWorld and Ashgrove.
I am registered with the Speakers Agency (which has taken me all over the country), spoken at literary festivals, and I regularly talk to local history societies, museums and the Women's Institute. I love meeting other history buffs face-to-face and enjoy the questions and the sharing of information.
In addition to in-person talks, I am offering supplementary history lectures via Zoom. I will deliver the first talks in the series myself, but in the future I envisage inviting other speakers to join The History Forum in order to cover a wide spectrum of historical topics.
Sign up for my newsletter to receive information and updates about The History Forum and my other work!
---
Join Melanie King, author, historian and speaker, as she shares the many uses of water in Western culture—the wonderful, the mysterious, the often obscure, and occasionally the downright inadvisable.
If you cannot attend the live event, recordings will be available on request for two days after the event.
Series 1: MAKING A SPLASH: A History of Bathing from Ancient Rome to the Victorians
Since Antiquity water has been viewed, with good reason, as having unique healing properties. Whether taken internally, by means of immersion—both warm and cold—or through taking steam and enjoying a good sweat, water has played a huge part through the centuries as a relaxant and a therapy. This series of lectures will look at the ways in which people in the West have taken to the water in search of miraculous cures for every ailment under the sun … or sometimes simply for sensuous pleasure.
£37 for Series 1: MAKING A SPLASH (4 talks)
OR £10 individual talk
Sunday 17th September, 2023
7pm (GMT)
'What Ever Did the Romans Do For Us?': Bathing for Health and Pleasure
The historian Suetonius claimed that the best time to ask Emperor Vespasian for a favour was right after his bath—because the Romans knew that bathing relaxed both mind and body, awakened the senses, and improved the mood. How seriously the Romans took bathing can be seen in the astonishing remains of monumental thermae such as the Baths of Caracacalla in Rome. One of the largest architectural complexes of the ancient world, it was completed in 220 AD was the most extensive and luxurious of all the Roman baths. An army of slaves, attendants, trainers, doctors, masseurs, guards and engineers kept this city of water going whilst underground the furnaces and boilers were stoked, a laundry operated and a mill ground flour for bread to serve the thousands of visitors. Even urine from the latrines was recycled and used in wool processing on the premises. Join Melanie as she introduces you to the exotic world of bathing Roman style.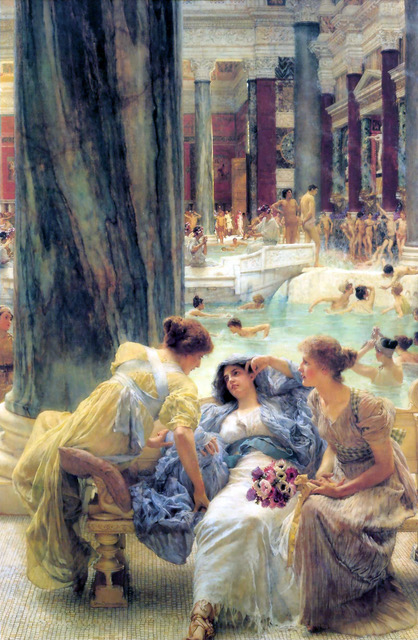 Monday 25th September, 2023
7pm (GMT)
From Spaw to Spa: The Making of Bath
The Romans enjoyed the hot waters of Aquae Sulis hundreds of years before Bath became the elegant city we know today. This talk will look at how Bath was dramatically transformed in the eighteenth century from a rustic, rundown city to a capital of leisure and entertainment, hence becoming the blue-print for all other English spas. Our starting point is in 1704 when a 30-year-old chancer, gambler and opportunist called Richard 'Beau' Nash arrives in town.
Sunday 1 October, 2023
7pm (GMT)
A Lot of Hot Air: How the English Fell in Love With Sweating
People have been letting off steam, or rather perspiring, in hot confined spaces for thousands of years. The English came late to all of this steam heat, but thanks to eccentric Scottish diplomat and politician, David Urquhart, the Turkish Bath gained popularity in the mid-nineteenth century. The introduction was not without controversy since many in Britain believed baths to be either decadent or barbaric, and early mishaps with the heating systems—one of which killed Urquhart's infant son—were sensationally reported in the press. But the population soon showed enthusiasm for a good sweat, and by the end of the nineteenth century an estimated 600 Turkish baths were opened across Britain. Local councils built Turkish baths for the poor, they were added to lunatic asylums, hospitals, in workhouses, ocean liners, Hydros, and even purpose built for animals.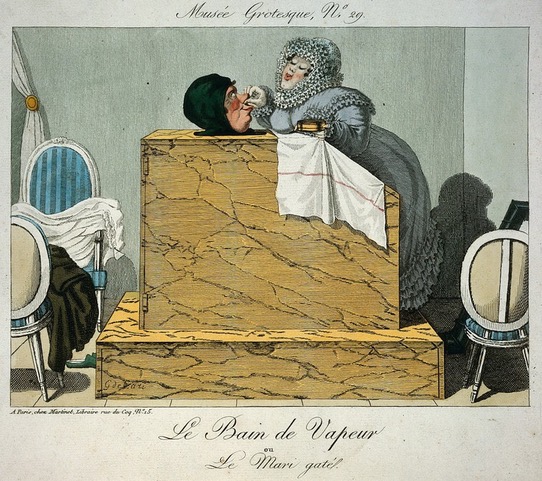 Sunday 8 October, 2023
7pm (GMT)
Hydrotherapy: Three Weeks in Wet Sheets
From steam heat to cold blasts. When a journalist going by the nickname 'The Moist One' visited Malvern Hydro in 1851 he was told that he had been 'committing a slow but deliberate suicide by good dinners'. Reluctantly he agreed to be wrapped in wet sheets for … 'three weeks'. This talk looks at where the hydrotherapy craze came from and why in 1842 two doctors, James Wilson and James Manby Gully, decided to set up competing practices in Great Malvern, a beautiful spa town set in the Malvern Hills of Worcestershire. Your eyes will water discovering what the Victorians—including Charles Darwin—suffered in the name of healing.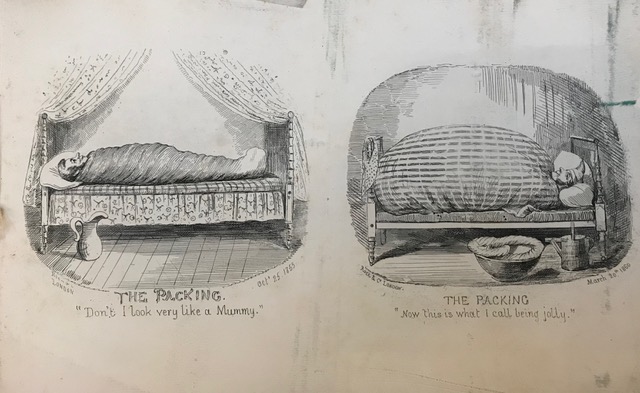 ---
Series 2
£27 for Series 2: 3 talks
OR £10 individual talk
Sunday 19 November, 2023
7pm (GMT)
Spy Hard with a Vengeance: The Curious Case of Mrs Stan Harding
Melanie King
Constance 'Stan' Harding is one of the twentieth century's most curious, eccentric, endearing, often infuriating, and—sadly—long forgotten figures. With no training or experience, this self-propelled woman from Canada managed to secure a job working as a journalist, first in Berlin during the Armistice and the Spartacist Uprising, then in Bolshevik Russia. This latter stint ended in 1920 with her imprisonment as a spy in the notorious Lubyanka Prison after she was betrayed by an erstwhile friend, the American traitor Marguerite Harrison, who spied for the Russians against the Americans and British. Following her release, Harding spent the following decade consumed by her pursuit of vengeance against Harrison, winning the support of 100 MPs from all parties and hundreds of foreign correspondents.
Join Melanie as she looks at the astonishing career of one of the twentieth century's most intriguing spies and journalists.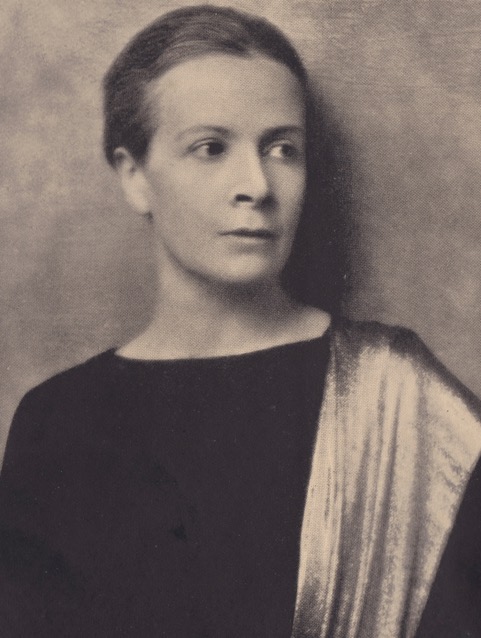 Sunday 26 November, 2023
7pm (GMT)
Agent Sonya: Stalin's Spy in Oxford
GUEST SPEAKER: Professor Anthony Glees
Ruth Werner, aka Ursula Kuczynski, aka Ursula Beurton, aka 'Agent Sonya', twice awarded the Order of the Red Banner by Stalin, was probably Russia's most successful intelligence officer.
She lived in the Oxford area from 1941 until she defected to East Germany in March 1950 to avoid arrest and imprisonment. Her work as a Soviet wireless operator and agent handler was conducted from addresses in Oxfordshire. Professor Glees argues that, in addition to her work for Stalin, she was recruited by MI6 as a British double agent in Switzerland in 1940, although she never delivered for us, perhaps because she could not be activated following Hitler's attack on the Soviet Union on the night of 21-22 June 1941. She worked in the UK under the protection of MI6, much to the chagrin of MI5 who believed, but could not prove, that she was spying for Russia. Her key task was to transmit to the Kremlin Britain's nuclear secrets, obtained by Dr Klaus Fuchs, the Soviet atom spy, based at the University of Birmingham.
Emeritus Professor Anthony Glees from The University of Buckingham is a nationally and internationally published expert on European affairs, the British-German relationship and Security and intelligence. He first became interested in 'Sonya' forty years ago.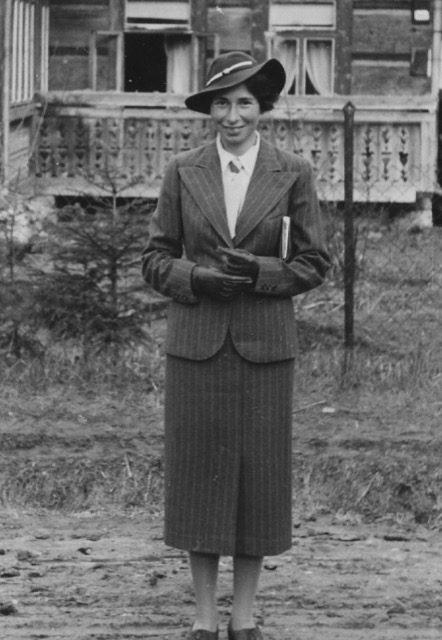 Sunday 3 December, 2023
7pm (GMT)
Highlights of the British Museum
GUEST SPEAKER: Loona Hazarika
The British Museum is a national treasure holding over 8 million works and covering 2 million years of human history. It dates from 1753 when the Anglo-Irish physician and collector Sir Hans Sloane bequeathed his collection of antiquities to King George II for the nation to enjoy. It was the first museum of its kind that belonged to neither church nor king.
Join Loona Hazrika on a virtual tour of one of the greatest museums in the world. A former official British Museum tour guide, Loona knows the museum so well that he's even had sleepovers with the mummies. Among the highlights his tour will be a look at how the Rosetta Stone's hieroglyphs were deciphered, what jewellery Montezuma wore, and the controversy surrounding the Parthenon Sculptures.
Loona Hazarika of www.letsdiscoverlondon.com is your virtual tour guide. He has been going guided tours of London since 2006, and has made multiple appearances on British TV history documentaries and holds a Masters Degree from the University of Cambridge.